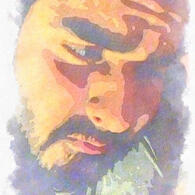 Noordin Ali Kadir
Who is Noordin Ali? (He/Him)
---
An intersectional, experienced and passionate actor, storyteller, writer, cultural and sensitivity editor and community, convention organizer and admin team member of Friends Who Roll Dice. Available for freelancing and contract work. Email address and other contacts can be found below for more details, rates, and examples of work.See below the list of some of his best and brightest credits on the left, and further information on his skills set on the right.This will be updated periodically, as more information is announced!
Noordin Ali's writing focusses on scenario creation, world-building and bringing fun twists on old mechanics in TTRPG games, though this list will continue to expand. He draws from a large array of influences, everything from 'own voice' type work, to genre work like sci-fi and urban fantasy.As a consultant, Noordin Ali will work with you to better showcase your ideas and inspirations while mitigating potential harm.Areas of focus are in South Asian, Muslim and Swahili cultures, along with Disability, Queerness and Religion. Historical areas of study are Briton post Roman Empire, Nile based cultures leading to the modern era, South Asia Pre- and Post-Vedic period, and finally the history of Spies from WWII onward.
An experienced actor, Noordin Ali has taken his skills to podcasting, in both TTRPG actual play and audio drama format.Currently available for auditions, guest spots, and long-form work.
Noordin Ali's streamed TTRPG appearances are made up with a wide range of characters, voices and archetypes. His interests lie in showcasing BIMPOC voices, horror, urban fantasy, family dynamics, superheroes and more!And yes, werewolves too. Always werewolves.Currently available for guest spots, one-shots, and campaigns, priority to paid or charity opportunities.Popular systems he's familiar with include: GUMSHOE, AGE, Dungeons & Dragons 5th edition, World of Darkness 20th edition, Vampire the Masquerade 5th edition and Powered by the Apocalypse.
Organizational Work
---
Noordin Ali has years of experience in community organization, moderation and convention work for large scale events. His high-level organizational planning, panel and Discord moderation, community management and marketing work all fall under this purview. He's done work for BreakoutCon, Asians Represent!, Huetopia, and more both large and small, in addition to representing companies and in-person customer service for organizations like Magpie Games and the Toronto Gaymers at conventions.Contact to see how he can benefit your organization!